About Jerome True, DC, FIACN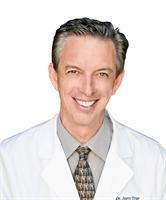 Dr. True has extensive experience with chronic pain and neurological conditions resulting from spine related disorders. He is involved with research and clinical application of laser therapy for neuromusculoskeletal disorders. He is a board director for the North American Association for Laser Therapy (NAALT). Dr. True has lectured for the Florida Chiropractic Association and the International Academy of Chiropractic Neurology for continuing education on topics of laser therapy and neurology. He has also lectured for many other academic venues throughout America.
---
Provider was Reviewed 8 times
---
Service
Environment
Expertise
Staff
Recommended
Value
---

Bonnie Pettinga
Dr. Jerry True has many years of experience providing his patients with immediate results. My husband and I have been patients of Dr. True for over 15 years and rely on Dr. True for his profound knowledge to meet the needs of our non traditional health care. We have bypassed many surgeries due to Dr. True providing alternative long term health care solutions....

Chip Korker
I have been to MANY Chiropractors in my lifetime for back and neck pain. Dr. True's Concierge Chiropractic approach for working professionals and retiree's is entirely different. I really like the fact that Dr.True takes the time to LISTEN to me while I discuss my discomfort zones and pain level. I am grateful for his advice and suggestions for my particular specialized treatment... especially the deep penetrating LASER heat technology for pain relief. WOW Does It Work!

Danielle
Dr. True is great